Capella Days
Still some time to register (follow link here).
Anzen will showcase the application of MBSE to help multidisciplinary teams during the design and development process of an electromechanical actuation system.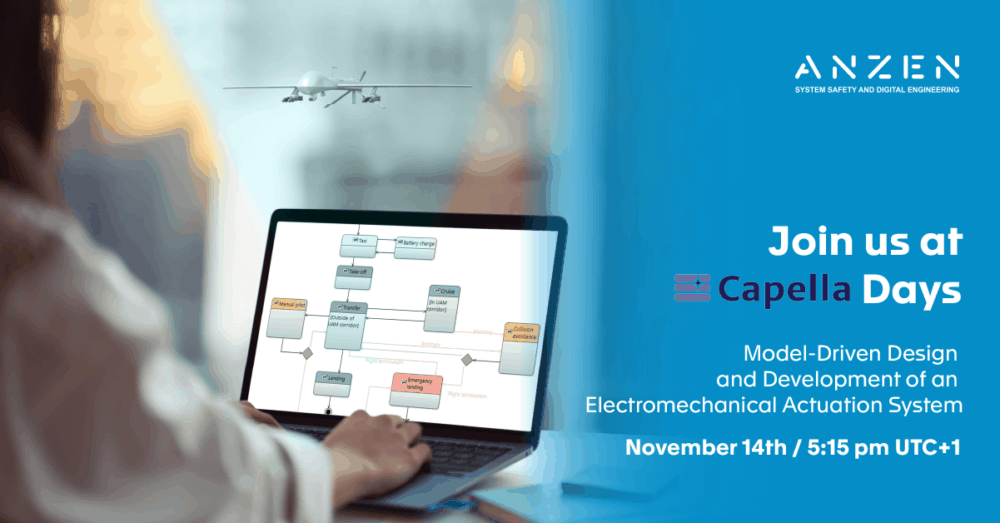 Important updates in Atica4Capella
A new release of Atica4Capella has been published. It includes important updates:
Atica4Capella assets are now distributed as an Update Site plugin, for enhanced management of plugin dependencies and compatibility with other Capella extensions. More info in the installation page.

Improved user experience in Architecture Blank diagrams, with the possibility to select which safety artifacts to show/hide in the diagrams. Additional info and examples in the FHA page.
Advances in supporting safety analysis at Logical and Physical layers, introduction of the Failure Net feature
ESA MBSE Workshop
The European Space Agency organizes a MBSE Wokshop on Thursday 16th November at ESTEC (Netherlands).
The lemma of this workshop is: "reducing the gap between model-based systems engineering and domain-specific model-based approaches"
More info and registration here
Our team has prepared a position statement highlighting the benefits of using MBSE to improve the safety and dependability analysis processes.
Bridging the gap between systems engineering and safety and dependability analysis (RAMS)
The proliferation of innovative mission concepts together with the increasing concerns about sustainability of space operations brings the safety and dependability disciplines back to the backbone of systems engineering. Space missions providing critical services (such as communications, global positioning or monitoring for emergency response) require high availability, human flights and vehicles re-entering the atmosphere are subjected to strict safety policies, scientifical programs in outer space benefit from high reliability… and the overall increase of systems in orbit makes mandatory the adoption of mitigation and contingency measures to protect and preserve the space environment.
(...)
With the emergence of Model Based Systems Engineering (MBSE), our company, Anzen, has identified an opportunity to directly address these aspects from the mission concept and architectural models, offering new tools to systems engineers to tackle safety-related challenges all along the design and development process of complex space programs. |
Download full article: ESA_MBSE_2023-Anzen-MBSE_Safety_and_Dependability